What's on your menu this Labor Day? If you still don't have a plan, I've got a great recipe to share with you!
Italian BBQ Grilled Chicken
is made with only 3-ingredients and is the perfect main dish for your holiday parties! I found everything I needed for this easy grilled chicken recipe (including the recipe) from my local
Giant Eagle/Market District
!
This shop has been compensated by Collective Bias, Inc. and its advertiser. All opinions are mine alone. #CurbsideConvenience #CollectiveBias
I know I've talked about how I love to shop at my local Market District before! I love that it's a one-stop shopping destination for everything I needed to put my
Easy Broccoli Pasta Salad
together and that it's got a great selection of store-made burgers so I can easily make my
Korean BBQ Burgers with Kimchi Cucumbers
. But, my shopping just got a whole lot easier with the introduction of their new service...
Curbside Express
!
Let's face it, life can get pretty crazy sometimes. And sometimes, you just want to spend time doing the things you love with the people you love instead of walking around a store picking up necessities. That's where Curbside Express comes in to save the day! I've been watching both of the stores near me gear up for this service for a few months now. Since the first three times you use this service it's free, I decided to check it out!
Why you should try Curbside Express:
Ordering online is so easy!
You don't have to be afraid to order items that require a human touch such as produce and fresh meats, because you actually get a real-live personal shopper who does your shopping for you...just like you would do for yourself!
You stay in control of your order the entire time. You start by going to the Giant Eagle Curbside Express website. Once you set up your account and choose your store you can start shopping. (Don't forget to include your Giant Eagle Advantage card so you can get your fuel perks!)
You can shop from Giant Eagle Recipes (like I did!), by departments, or you can search an item you are looking for!
Once you've made your selections and are ready to check out, you decide whether you want to pay now or pay in-store (your personal shopper will take care of payments right at your vehicle when you arrive!)
You choose a half hour time slot that fits your schedule to pick your order up!
Pick up was really easy!
My Personal Experience with Curbside Express
When I arrived during my chosen time slot, I pulled right up to a bay specifically marked for Curbside Express. Once I was in the bay, I used my cell to dial the number on the sign and gave them my name.
My personal shopper came out within minutes with all of my items. You don't have to be afraid to order big, bulky items either, because your shopper will come right to your vehicle and load it in for you. Oh how I would have loved this service when my kids were babies! I didn't even need to leave my vehicle to get my order.
My order was 100% correct because my personal shopper took the time to double check everything as she loaded it into my van. Overall, I was really happy with my Curbside Express service and will definitely use it again.
Give it a try on the image below! Click on the numbers in the image below: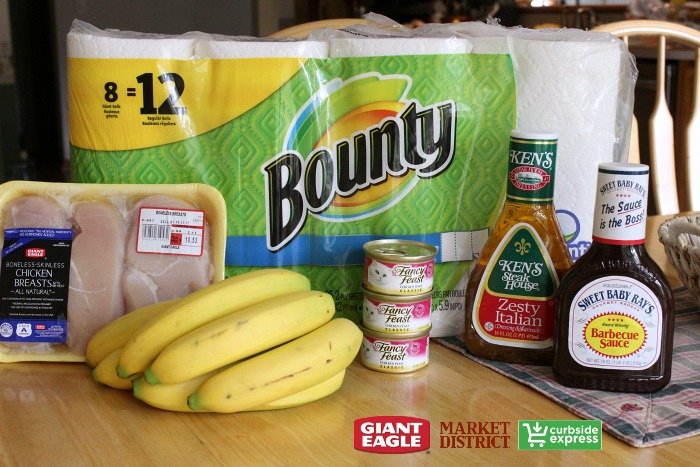 How to Make Italian BBQ Grilled Chicken
So what did I do with my loot? Make this easy grilled chicken recipe... Italian BBQ Grilled Chicken, of course!
It just doesn't get much easier than this 3-ingredient (4, if you count salt and pepper) easy grilled chicken recipe! The original recipe didn't call for basting the chicken as it cooked, but I added that step for extra flavor and to help keep the chicken breasts from burning on the grill.
You're family will love this BBQ chicken and you'll love how easy it is to make. It makes a great main course for your holiday menu!
What holiday menu items will you purchase with Giant Eagle/Market District Curbside Express? (Remember, the first three times you use this service it's FREE!)
Italian BBQ Grilled Chicken
Boneless, skinless chicken breasts are marinaded in BBQ sauce and Italian dressing for an easy and tasty grilled main dish!
Ingredients
1 1/2 cup Sweet Baby Ray's® Barbecue Sauce, divided
1 1/2 cup Ken's® Zesty Italian Dressing, divided
Salt and Pepper, optional
4 - 6 pieces Boneless, Skinless chicken breasts
Instructions
Combine 1 cup Sweet Baby Ray's® Barbecue Sauce and 1 cup Ken's® Zesty Italian Dressing in a gallon sized plastic zipper bag.
Add chicken pieces to the bag and close. Make sure chicken is covered in mixture. Place in refrigerator for at least 4 hours or overnight. (Overnight is better!)
Heat grill to med-high. In small bowl, combine remaining 1/2 cup Sweet Baby Ray's® Barbecue Sauce and 1/2 cup Ken's® Zesty Italian Dressing.
Remove chicken pieces and place on preheated grill. (you can season with salt and pepper at this point if you like) Discard leftover marinade. Cook on one side until chicken turns white on underside (about 6-7 min.) turn chicken and baste with barbecue sauce-dressing mixture. Continue to cook, turning frequently so the chicken doesn't burn and coating with more sauce mixture until chicken is done and the internal temperature is 165 degrees F.
Yield:
4 - 6 servings
Prep Time:
04 hrs. 00 mins.
Cook time:
00 hrs. 15 mins.
Total time:
4 hrs. 15 mins.
Recipe courtesy of
Giant Eagle
Printable Recipe
Pin Italian BBQ Grilled Chicken to your Chicken or Summer Grilling Pinterest Boards!
Like what you see? Follow RKA on all these social networks!!